Thesis title: 'Making research count for farmers: An analysis of participation and communication in agricultural research for development in Eastern Indonesia' (available for download here)
Principal supervisor: Associate Professor Elske van de Fliert
Associate supervisor: Dr Lauren Hinthorne
Dr Nurul Hilmiati is a veterinarian and communication for social change expert from Indonesia.
Her research explored participation and communication in agricultural research for development initiatives in Eastern Indonesia. Nurul compared case studies of three agricultural research for development (RfD) projects.
"All projects claimed that they use a participatory approach, however, they implement it in different ways. So my thesis analysed how these varying methods, strategies and understandings in implementing participatory approaches contribute to the projects' achievements and impacts. At the same time, my thesis also analysed relationships between stakeholders in each project and how communication approaches and strategies contributed to the project's achievements" Nurul said.
Based on the findings in Nurul's research, the thesis offered recommendations and a framework for agricultural RfD projects aiming for farmers' practice changes and impacts.
When asked what she took from her studies at the Centre she said, "All the knowledge and skills that I received from the classes have helped me a lot, particularly in designing a project aiming to measure impacts. The PNOA training has helped me to develop project proposals with change to farming practice and positive impact on farmers' livelihood as the main target. Moreover, the CSC master classes have improved my knowledge and skills in participatory communication, which is absolutely needed for my work at BPTP. As a researcher at BPTP, we are required to scale out the uptake of the innovations we have. In this regard, knowledge and skills on PDC has helped me to improve the communication strategies and media at BPTP".
Nurul has a Bachelor of Veterinary Science from the Gadjah Mada University in Indonesia and a Masters degree in Tropical Veterinary Medicine and Beef Cattle Management from the University of Queensland.
---
Currently, Nurul is involved in the project Improving smallholder cattle fattening system based on Forage Tree Legume diets with Centre Director Elske van de Fliert. She is conducting a Participatory Needs and Opportunities Assessment (PNOA) in four sites where the project takes place.
She is responsible for training the project's field researchers (a team of eight people) to conduct the PNOA in each of their working areas. She is also providing assistance for the project's field researchers to improve their communication skills, exposing them to participatory development communication tools.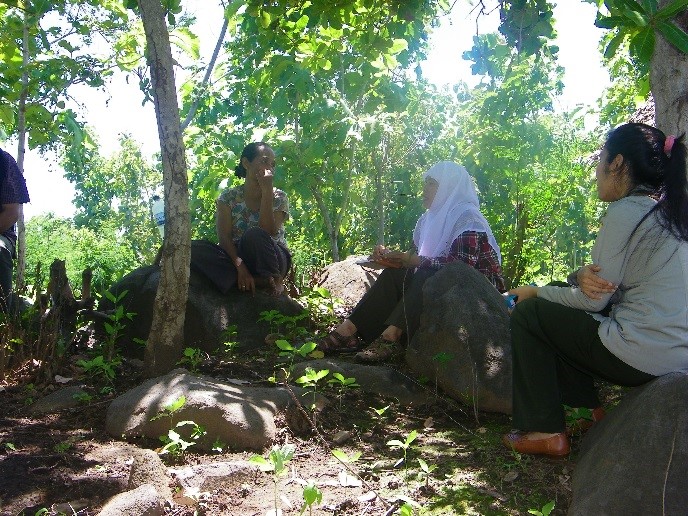 In close collaboration with Elske, Nurul is in charge of designing and developing communication strategies to scale out the uptake of the innovations produced by the project.
"We are training the extension workers to extend the innovation messages of the project to other farmers," she added.
Nurul and Elske are responsible for developing media to train farmers and field extension workers on the Forage Tree Legume.