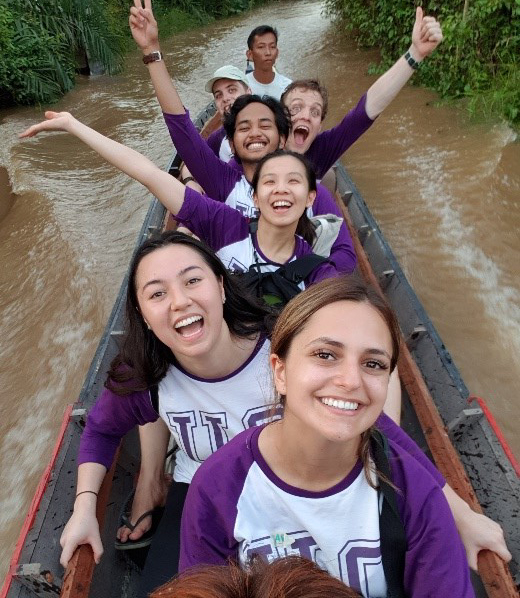 The UQ Centre for Communication and Social Change (CfCSC) is collaborating with the Indonesian Peatland and Mangrove Restoration Agency (BRGM) and Universitas Indonesia (UI) to offer UQ students from a wide range of disciplines the opportunity to work on a real-life project in Indonesia.
The Peatland community Engagement and Transdisciplinary Learning - Indonesia (PEATLI) project, which successfully engaged two cohorts of students in 2019, will be running again in November 2022 through PEATLI-3, with fieldwork in West Kalimantan province, and in June 2023 through PEATLI-4, with fieldwork in Jambi province on the island of Sumatra.
Participants will conduct a multi-stakeholder consultation exercise at national, provincial, district and community level around the restoration and utilisation of peatlands, and formulate recommendations for a community engagement strategy to further support the BRGM's programs. The fieldwork will be facilitated by BRGM field staff and students from the Communication Department of Universitas Indonesia.
At UQ, the project is supported by a range of undergraduate programs under the faculties of HASS, Science, BEL and HABS, in particular through the Schools of Communication and Arts, Earth and Environmental Sciences, Law, Social Science, and Public Health.
A number of grants funded by the New Colombo Plan (NCP) are available for domestic students to cover the travel cost to Indonesia.
Requirements
The project is intended for students who are:
Interested in doing a transdisciplinary project in Indonesia with rural communities and local institutions.
Doing an undergraduate degree at UQ.
Available to be involved in five preparatory workshops during the semester and a 17-day visit to Indonesia during the weeks following exam period (Sem 2 2022 for PEATLI-3 and Sem 1 2023 for PEATLI-4).
Able to fit the project in their undergraduate program through an internship/practicum, project or special studies course in a semester following the short mobility.
Information Session
Thursday, 18 August 2022, 16:00-17:00 (Room W349, Forgan Smith Building, St Lucia campus).
If you are unable to attend the Information Session but would like more information, please contact the project leader (e.vandefliert@uq.edu.au).
Application process
Application process The expression of interest form can be downloaded HERE and should be returned to e.vandefliert@uq.edu.au
Additional information
Contact
On the PEATLI project:
On NCP funding: